Recycled Teak
Furniture with a history
Indonesian houses and bridges made of teak are popular sources for the recycling process due to their own character and the quality of the wood. Window frames, doors or studwork thus become chairs, tables and beautiful objects for both house and garden.
Recycled Teak
The protection of our environment and forests beyond our national borders is our most important concern. Recycling has the wonderful property of reducing the still high tree felling and of reusing the robust and insensitive teak wood for new purposes. Furthermore, large amounts of wood waste can be avoided. All teak furniture is mainly handmade in professional workshops. In order to meet the European demand for standards and accuracy of fit, the handicraft is increasingly supported by machines. Old teak has become increasingly popular, not only because of its natural colouring, but above all because it has developed its own unique charm through history, weathering and minor repairs. The special nature of the furniture is evident in carvings, among other things, which are preserved during the manufacturing process. Recycled teak can therefore never be perfect but fits perfectly into gardens, terraces and balconies thanks to a sustainable design and the added functionality. It is therefore worth placing these decorative unique pieces in your green living room.
An Indonesian house and its benefits
Everyone has a pretty clear idea of what recycling means. Used materials or objects are reprocessed, given a new shape or new functions. For example, chairs, tables or decorative objects are created with a different use. Many people have already created something new out of something old. Perhaps also for the domestic garden? With the lovingly designed furniture made from elements of Indonesian teak houses or bridges, you can bring real treasures into your own garden. But they also look very good indoors.
House Demolition
Usable framework
Material for upcycling
Beams with nails & repairs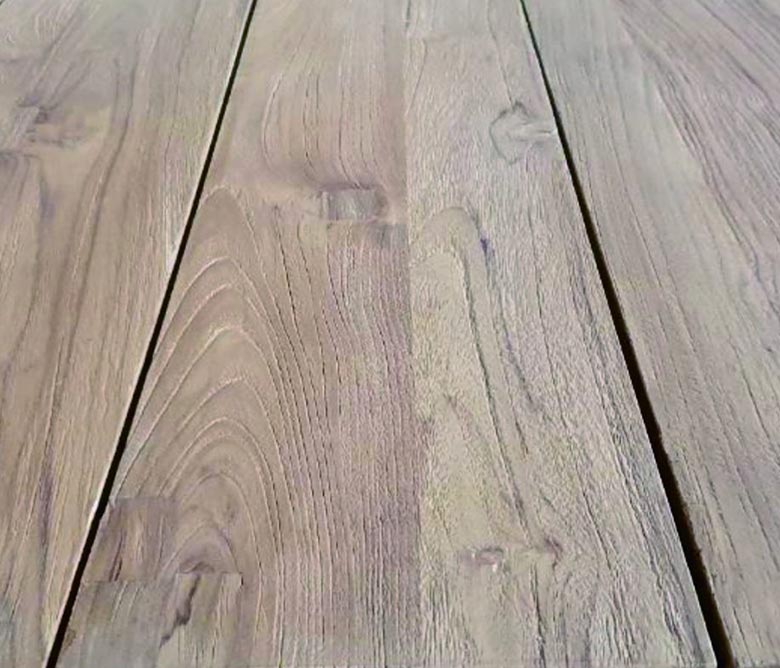 Processed wood
For the final product
The table in its entirety
From house beams to rustic furniture
Care tip:
Use Ploß® "Wetterschutz" to conserve the special coloration when used outside.